The Couple
Edit
SoraXXion or SoraShion (Japanese ソラシオン Sora Xion) is the term used to refer to the romantic relationship between the Sombody Sora ソーラ and the puppet, Xion シオン
About them!
Edit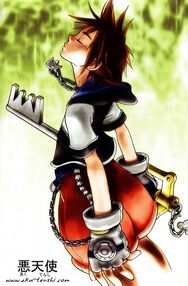 Sora
Sora is the main protagonist in the Kingdom Hearts series, as well as a Keyblade wielder. He is an upbeat teenager who may seem simple-minded at times, but is very aware of the importance of his quest. He possesses a strong sense of justice and an unrelenting heart. At times, he is impulsive and quick to anger when defending his friends, but he is always sincere about what he says and does. He has been best friends with Riku and Kairi since he was a small boy.
Sora seems to have a remarkable capacity to forgive, even to his sworn enemies; when Maleficent loses control of the Heartless to Organization XIII and is overwhelmed by Dusks in order to allow Sora's group to escape, Sora is clearly concerned for her and is only stopped from helping her by being restrained by Donald.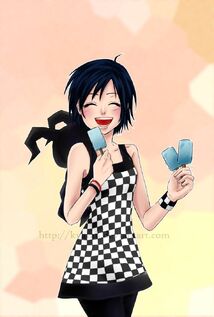 Xion
Xion is the fourteenth member of Organization XIII, first appearing in the game Kingdom Hearts 358/2 Days, in which she could be viewed as both a main protagonist and antagonist. She is not a normal Nobody and is only a nominal member of the Organization. Because of this, she does not have a throne in Where Nothing Gathers, nor does she have a title or a breed of Nobody to control. Instead, she's an imperfect Replica of Roxas created from his leaked memories as a fail-safe in case both Sora and Roxas proved to be useless to Organization XIII's plans. While this enables her to use the Keyblade, Xion's existence also halts Sora's progression of regaining his memories to fully awaken while in his pod, something which Naminé, DiZ, and Riku recognize.
As Sora's memories are the basis of her being, Xion initially resembles Kairi, who was Sora's strongest memory at the time of her birth, though her physical appearance eventually changes depending on who is viewing her and who they have connections with. Roxas, Axel, and Riku (and presumably the rest of the Organization, except Xigbar, Xemnas, and Saix) see her as Xion. Roxas also sees her as Sora before their battle with each other, Xigbar sees her as Ventus, Xemnas sees her as Sora, while Saïx sees her only as a hooded puppet. As Naminé stated while talking with Riku, Xion's face was originally blank, until Sora's memories found their way into Xion and she gained an identity.
Relationship
Edit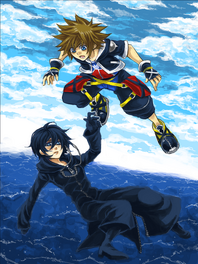 This relationship is a lot like SoraXRoxas. Xion is amde from Sora, so her relationship could be family or lover, even incest it depends on what 'your' views are on it.